Find the Perfect MS Pipe Size for Your Project at MWPBNP
Upgrading your home's plumbing system can be expensive, and you want to make sure that you are getting the best deal possible. Luckily, we offer our customers the widest selection of high-quality, affordable mild steel pipes in the industry! MWPBNP's MS Pipe comes in many different sizes, allowing you to find the perfect one to fit your needs perfectly.
We carry only high-quality MS pipe Sizes. These pipes are extremely versatile and can be used to transport water, air, gas, or any liquid or gaseous material through a network of distribution lines. Because our products are incredibly durable and easy to install. You can use them to make an enormous variety of projects, from storm drain systems to radiant floor heating systems to aquaponics setups. We're confident that we can supply you with the perfect mild steel pipes for your project, so contact us today!
MS Pipe Sizes
Here are some quick reference size guidelines to help you decide which MS pipe size is best. The first number listed in a pipe's diameter is its outside diameter (O.D.). The second number listed is its wall thickness. A thin-walled steel pipe can be used for lightweight lines and applications. Where lower stress and weight are important, such as hot-water or gas piping. Larger O.D.'s will typically handle higher pressures and loads but may require thicker materials to make them stronger. And less prone to pressure damage or fatigue failure. Thicker MS pipes also tend to be more rigid than thinner ones, making them better suited for use with heavy equipment.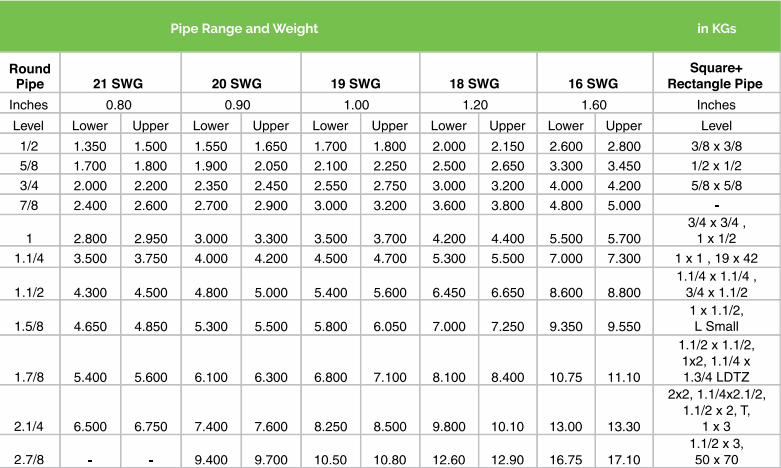 Material & Quality Of MS Pipe
A pipe or tube made of mild steel is best known for its versatility and strength. As an alloy, mild steel is an ideal choice if you're looking to buy a durable pipe. And or tube that will last, but without breaking your budget. For example, our 6-inch steel pipe can be used in a variety of applications; from water supply systems to bulk storage facilities to HVAC ducts, there's no limit to what you can use them for. And because they're designed with durability in mind, our 6-inch mild steel pipe has been resistant welded using cold punching technology; meaning they won't rust or corrode over time.
Thickness, Wall Thickness & Weight Calculator
If you're trying to work out what size of tube you need. Choose your project type and enter in values to be given an accurate thickness, wall thickness, and weight. This tool will ensure you've got everything right before ordering. Remember that larger dimensions generally result in greater weight due to increased raw material usage. However, take note of your application: a 10-inch diameter pipe weighs almost twice as much as an 8-inch pipe (33 lbs compared to 19 lbs). If you have any questions regarding our mild steel pipe/tubes. Feel free to contact us through our email or phone number on our contact page above.
Free Samples For Test Measurement
It's possible that you might need a sample of a particular steel pipe to ensure it will work for your application. If so, let us know and we'll be happy to send you free samples so you can test them. And if you aren't sure which mild steel pipe sizes are best suited to your project, contact us and we'll help. We can advise on other materials too—just ask! Whatever your requirements, our team is always here to help—you can reach out via email, phone, or social media.
Pipe Fittings & Accessories
We are ready to give you a quotation. You can also reach us through phone, fax, or email. To know more about our products contact us today. Our team of professionals will give you guidance and expert advice on all your queries related to mild steel pipe sizes.
Contact Us
If you would like to know more about us or MS Pipe Sizes. Feel free to contact us through e-mail or phone. Our customer representatives are always ready to help you find what you're looking for.