Steel Rate In Pakistan: MWPBNP Offers Great Deals on Top Brands
MWP Business and Presentations Pvt Ltd has announced the best steel rate in Pakistan, which you can get at MWPBNP located in Rawalpindi, Pakistan. MWPBNP offers great deals on top brands, allowing you to save money on your next steel purchase. Each of these brands has its own benefits that come with using their products, so be sure to check out the list below and reach out to us if you have any questions!
Warm weather is finally here, and it's time to get outside to enjoy it! Unfortunately, that means it's also time to start worrying about what new dents and scrapes you might put on your car from all the fun summer activities ahead. With the best steel rate in Pakistan from MWPBNP, you can drive away from those worries!
Why Should You Trust Us?
While other steel companies are content with having a monopoly, we at MWPBNP have our customers in mind. For years, we've been providing Pakistan's top brands of steel with top-of-the-line services that our competition simply can't match. In fact, we sell high-quality steel for even less than those discount stores you see online and in your city! Whether you need steel for a building project or if you just want to upgrade your kitchenware, you can trust that when you buy from us at MWPBNP, it will be exactly what you want—and at an affordable price!
We Offer Price Comparisons For Every Brand
At MWPBNP, we do more than just offer Steel Rate In Pakistan from various suppliers. We also offer consumers a chance to compare steel prices for every brand—so if you want to find a great deal for any product, simply search our database and review several brands' rates. After that, choose your preferred brand and place an order right away! It's that simple. If you have any questions about our services or steel products in general, please don't hesitate to contact us here.
All Kinds of Reputation Are Available
We are working on all kinds of steel products, like MS Deform Steel Bars, MS Chowkat / Steel Door Frames, Pipe (Conduit/ Hollow Section/ Rerolled/ Prime Pipe), Iron items, and MS Sheets. If you need any information then just call us at +92 (333) 44 85 888. Mr. Noor Ahmed Zeeshan. or Email us at info@mwpbnp.com.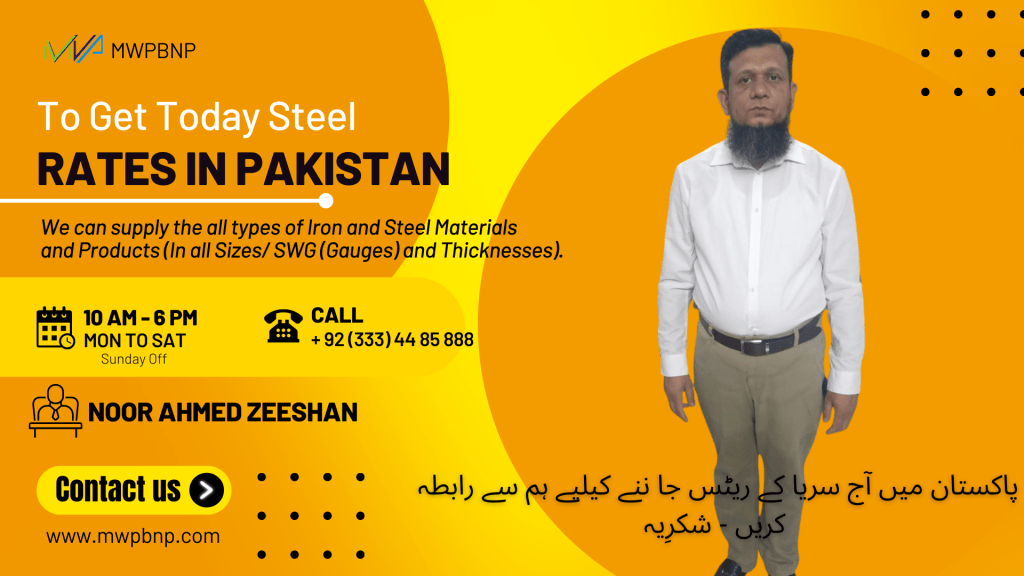 Steel Rate In Pakistan Are the Lowest In Market
Do you know how much steel costs in Pakistan? Many of our clients often wonder if there's a price difference between steel from our company and from international suppliers. Our prices are some of the lowest in the market, but we also offer great deals for bulk orders. If you buy more than 250 tons, you can get up to 50% off your purchase. Don't hesitate to contact us today and check out all of our discounts and special offers!
Get a Quote in Less Than A Minute
You can apply for any product you're interested in, and get a quote in less than a minute. All you need to do is enter your information, send us an attachment of your shop floor plan, or provide some basic details about your project. Our team of experts will then do their due diligence and give you an accurate quote within 24 hours – whether that's business days or weekends. Once we receive your requirements and calculations for steel structures, our panel of distributors will provide you with Steel Rate In Pakistan from reputable manufacturers; such as Pakistan Steel Mills (PSM), Arshad Pipe Industries Ltd., Fazal Din Group LLC., etc.
Wide Range of Products
When you buy steel from us, you're not limited to a single product. Unlike some other steel providers, we carry many different types of steel for residential and commercial needs. Whether you need a specific type of steel or simply want to browse, there are endless opportunities for what you can purchase from us. We're one of Pakistan's largest steel providers with an expansive selection at your fingertips.
Tons of Options to Choose From
There are a variety of steel products available from more than a dozen different brands. This means you can choose from hundreds of options when shopping for your steel purchase. Each product comes with its own strengths and weaknesses, so you can pick what works best for your project. For example, some metals are stronger than others but cost more, while others may be cheaper but less durable. It's up to you to find what option is best for your project.
Largest Selection of Materials Available
With MWPBNP, you have access to one of Pakistan's largest selections of steel and construction material brands. This means you can get a wide range of choices for products without having to go through multiple sources. We help you find quality products at affordable prices so that your business can be as successful as possible. Check out our online store today to see what we have in stock!